It has never been more important to have the latest security measures in order to keep your valuables safe and secure. Don't wait for an invasion to occur to implement the best security procedures in Australia for your house or business premises. You deserve the best protection; call VIP Security Services for the best burglar alarms Melbourne has to offer.
All of our technicians are fully qualified and will thoroughly install all of these appropriate security measures to wherever you need. All burglar alarms and other products recommended by VIP Security Services (Aust) Pty Ltd undergo all the suitable testing to guarantee that they are perfectly fitted for whatever purpose you require them for.
Installation of our security systems are designed to give you that comfortable peace of mind feeling.
About Bosch
Bosch Security Systems is the preferred partner for security, safety-, and communication needs: Bosch Security Systems engineers all over the world, delivers solutions according to customers' needs and provides services to manage their business. In its global product business, Bosch offers not only an innovative product range, but also a business partner program for planners, system integrators, installers, wholesalers, and original equipment manufacturers. With its international and local presence Bosch is always close to where its customers are, and guarantees a high level of service worldwide.
Bosch 2000/3000 Brochure       Bosch 6000 Brochure
About Paradox 
Paradox alarms feature reliable communication technology, flexible expansion and great-looking keypads, making for an ideal security system for any domestic or commercial installations. The Magellan line of two way wireless security systems offer you a combination of security, wireless convenience, easy installation and attractive consumer features for any residential or commercial installation. And to further facilitate installation, every Magellan panel can be configured using easy to- follow menu-driven programming. You can communicate with your security system via the internet by using a system accessory called the IP150 Internet Module (sold separately). The IP150 controls and monitors your security system remotely through your phone. It allows for notifications of important system events such as alarms, arm/ disarm events, and troubles. For example, receive a notification at work when your kids get back from school, or if an alarm occurs in your system at home.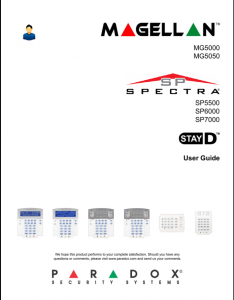 Our product and service portfolio includes:
IP CCTV SOLUTIONS FOR HOME, OFFICE AND WAREHOUSE
FULLY WIRELESS PARADOX ALARM SYSTEMS
WIRED/HYBRID BOSCH ALARM SYSTEMS
ALARM MONITORING
30 YEARS EXPERIENCE IN THE INDUSTRY