TiOC 2.0
The upgraded TiOC 2.0 features Smart Dual Illumination technology can flexibly switch between IR mode and white light mode. The smart illumination mode adopts deep learning algorithm to detect target, when the Smart Illumination Mode (default mode) is enabled, the supplementary white light will only turn on when a target has been detected in the monitored area (PTZ camera tracks the target). The active alarm will be triggered as well (siren and blue & red light) if the target enters the rule area. When the target leaves the monitored area, the supplementary white light will turn off (PTZ camera goes back to preset) and the IR illuminator will turn back on, which can significantly help reduce light pollution during night time. Together with other modes including IR Mode and White Light Mode, the smart dual illumination technology can meet various scene requirements of customers.
TIOC 2.0 ACTIVE DETERRENCE IP CAMERA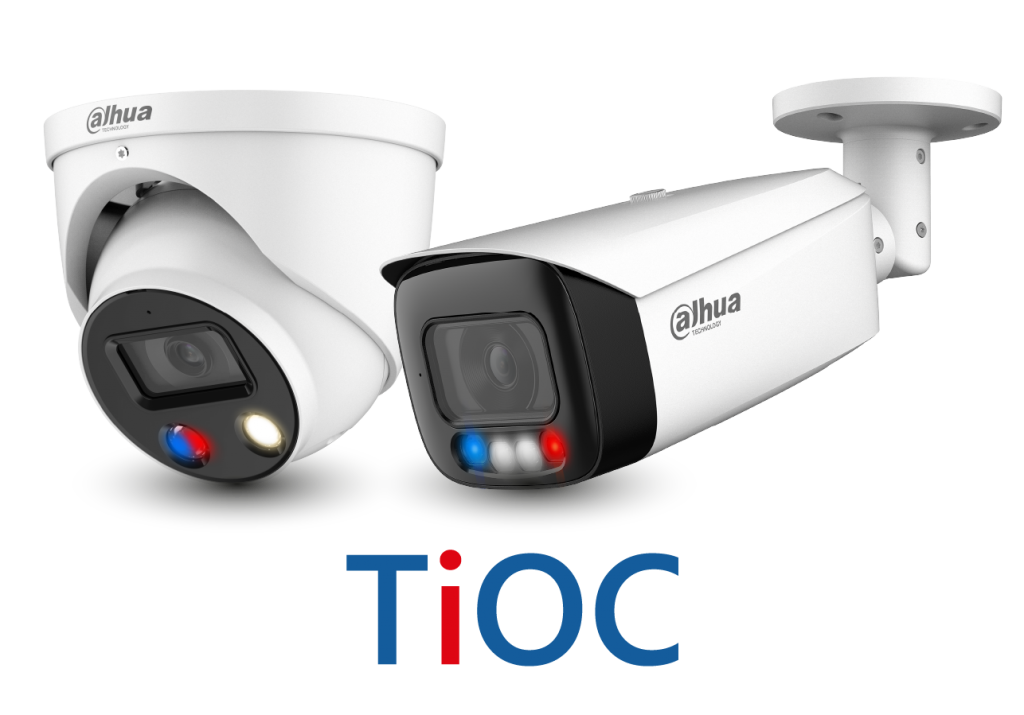 H.265 codec, high compression rate, low bit rate
Supports sound and light alarm linkage. When an alarm is triggered, the camera links sound alarm and light flashing.
Built-in warm illuminator, and the max. illumination distance: 30 m
ROI, SMART H.264+/H.265+, flexible coding, applicable to various bandwidth and storage environments
WDR, 3D NR, HLC, BLC, digital watermarking, applicable to various monitoring scenes
Intelligent detection: Intrusion, tripwire (support the classification and accurate detection of vehicle and human)
Abnormality detection: Motion detection, video tampering, scene changing, audio detection, no SD card, SD card full, SD card error, network disconnection, IP conflict, illegal access, and voltage detection
Alarm: 1 in, 1 out; audio: 1 in, 1 out; supports max. 256 G Micro SD card, built-in Mic and spearker
SMD Plus
Red and blue flashlight alarm
12V DC/PoE power supply
What is TiOC 2.0?
With its foundation from the previous generation of TiOC, a variety of new innovative technologies are introduced in the latest TiOC 2.0 for the first time, achieving breakthroughs and quality improvements in illuminators, audio and images. At the same time, TiOC 2.0 can be integrated with alarm system through software upgrades. It provides better ecosystem that offers more convenient operation and better user experience.