The package includes
1 x Bosch Solution 6000 Control Panel
1 x Bosch Graphic LCD Codepad
3 x Bosch Blue-line Gen2 Detectors
1 x Internal Top-Hat Siren
1 x External Slimline Siren & Strobe
1 x 16VAC Plug-pack Power Supply
1 x 12VDC 7AH Sealed Lead-Acid Battery
Designed and manufactured in Australia to meet local and international requirements the Solution 6000 panel offers and extensive feature list.
The Solution 6000 Access and Intrusion alarm panel offers an extensive feature list including integrated proximity readers and numerous wireless and expansion options.
Features
16 on-board zones (expandable to 144 wired or wireless), partitionable to 8 areas with 256 PIN, token, keyfob and fingerprint users
Integrated access control for up to 16 doors
Proximity key pads, Weather-proof external metal keypads, Internal & External LAN readers & Fingerprint LAN readers available
5 on-board outputs (expandable to 37)
GSM/GPRS and Ethernet options
Graphic LCD Keypad
The Graphic User Interface incorporates a text driven menu. Colour coded, illuminated keys allow for easy identification and operation in all ambient light conditions and provide a positive feel to the user. Red and green indicators provide easy identification of Armed and Disarmed modes and the in-built sounder provides audible feedback via polyphonic like signalling tones during system operation. The sounder emits a siren sound during alarm condition providing early warning and the volume level is individually programmable for each key pad connected to the system.
National Broadband Network (NBN) Capable
While offering the same telephone line capabilities as existing intrusion panels, the Solution 6000 also has a range of communications extension modules available that integrate directly with the panel and provide options such as mobile communications via the GSM & GPRS networks, along with IP reporting through the Internet.
Bosch Solution 6000 Graphics Wi-Fi Keypad
The Solution 6000 Graphic Code Pads have been thoughtfully designed to provide everything you would expect a top-of-the-line security code pad and much more.
The Bosch 6000 Wi-Fi Keypad has an inbuilt Wi-Fi Card which will connect to your home internet network this will allow you to use the IFOB app to receive notifications and remotely arm/ disarm your system.
The Code Pad is supplied in white plastic housing which is complimented by an electric blue LED backlighting of the keys and display.
The striking appearance will compliment most modern interior designs while also offering advantage in dirty industrial installations.
With your Solution 6000 panel connected to MyAlarm, you'll be able to make use of the iFob Control app available on both IOS and AndroidOS. With this app you'll be able to check on the status of any Solution 6000 panel connected to your account, arm or disarm the system, operate doors and outputs, and even view the panel event log. What's more, you can assign up to ten mobile devices to each panel allowing other users access to similar functions with permissions and restrictions that you can set easily through the MyAlarm web interface.
You'll never miss an alarm event with push, voice, SMS or email notification available on some MyAlarm plans. You could also use the same feature to be informed when other users have armed or disarmed the system, allowing you to ensure that your children or your staff have properly secured the site when leaving.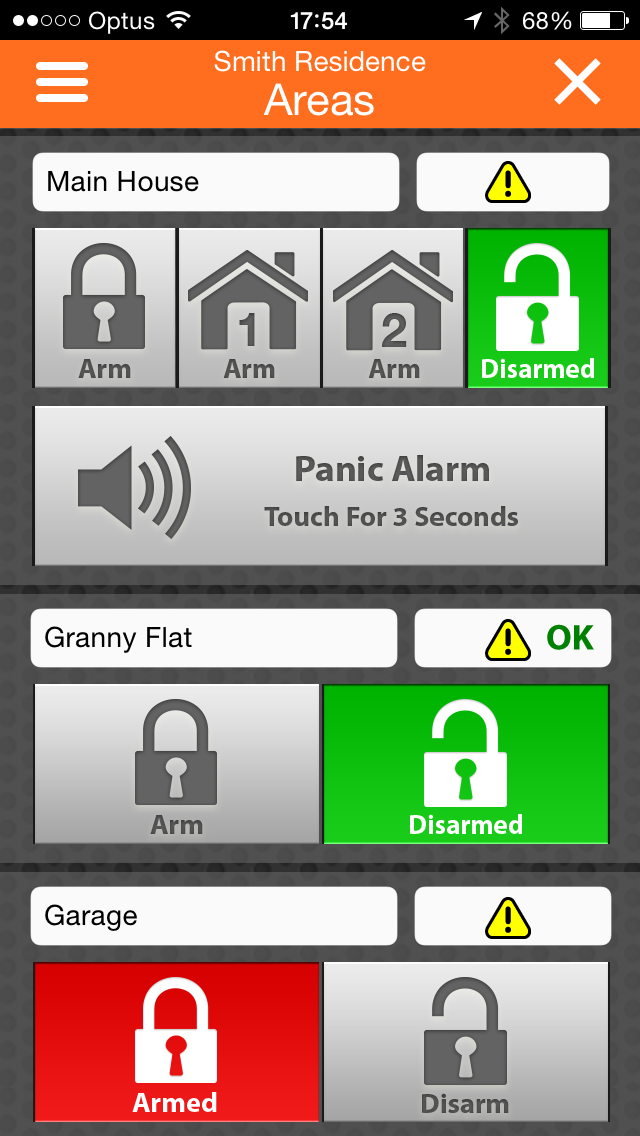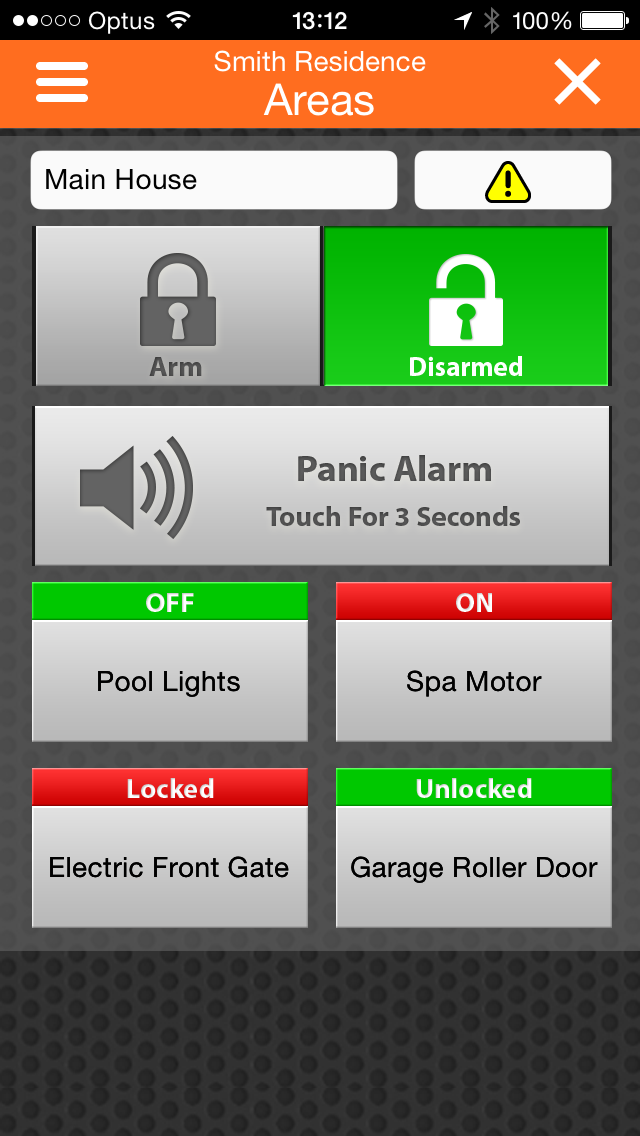 Whether you are looking to secure a home, a shop, or a commercial property, every premises is going to be different, and you need to know that your system has the flexibility to adapt to your requirements.
With the ability to be expanded to support up to 144 wired or wireless detection devices, and up to 16 doors of access control, the Solution 6000 is a cost-effective security solution that can grow as your needs grow. And with the ability to cater for up to 990 users, supporting programmable authority levels and simplistic operation, the Solution 6000 can provide the perfect fit even in the largest of security applications.
Click for Bosch 6000 Quick start guide