Bosch Solution 3000 Hybrid- Wireless Security Alarm System
Supporting up to 16 fully programmable zones on the Solution 3000 Hybrid-Wireless Security Alarm System  is suitable for any home, and even some commercial premises. With support for up to four codepads and the ability to partial arm the perimeter zones at night – the system is perfect for many single and double story homes and businesses.
The LCD Icon Codepad offers a small and unobtrusive interface to complement the decor of any home. The simple Icons make it easy to identify the status of your system at all times.
Experience the true power of wireless with the Solution 3000 Hybrid-Wireless  Security Alarm System which includes the option to integrate with the Bosch RADION range of wireless transmitters. With a growing suite of wireless products such as motion sensors, door & window reed switchs, and remote keyfobs, Bosch RADION will create new options for how you manage your home security.
Enjoy easy control of your Solution 3000 Hybrid-Wireless  Security Alarm System with wireless keyfobs that allow you to arm & disarm your system, control external outputs and even trigger a panic alarm if you are unable to reach the panel's codepad.
Included Components
Bosch Solution 3000 Control Panel
Bosch LCD Icon Codepad
Bosch Radion Wireless Receiver
3 x Bosch Wireless Blue-line Gen2 Tri-Tech Detectors
2 x Bosch Remote Controls
Internal Top-Hat Siren
External Slimline Siren & Strobe
16VAC Plug-pack Power Supply
12VDC 7AH Sealed Lead-Acid Battery
Bosch Wireless Blue-line Gen2 Tri-Tech Detectors 
Features
Pet‑friendly Selectable model available – optimize installation for pet (45 kg [100 lb]) and non‑pet applications
Dynamic Temperature Compensation – superior catch performance in any environment
Microwave Noise Adaptive processing – reduce false alarms from repetitive sources
Wall to Wall Coverage – superior catch performance
Flexible Mounting Height, No Adjustments – reduce installation time and false alarms, improve catch performance
Self-locking Enclosure with Integrated Bubble Level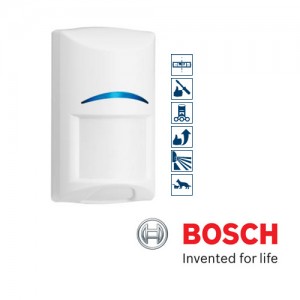 NBN Ready
With large-scale broadband communications already a reality in Australia with the installation of services such as the National Broadband Network, knowing how your intrusion panel is going to handle and report alarms is becoming increasingly important.
While offering the same telephone line capabilities as existing intrusion panels, the Solution 3000 also have available a range of communications extension modules that integrate directly with the panel and provide options such as communication through mobile networks and IP reporting through the Internet.
Remote Security Control Plus (RSC+)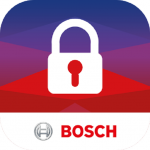 Remote Security Control Plus (RSC+) is the latest app available on IOS and AndroidOS for the Solution 2000 & 3000 panels. The app, cloud connection and push notifications are all free.
Each user of RSC+ app is able to receive push notifications from one or multiple panels which you can configure so that you are only see what matters to you.
Receive alarm notifications while you are on holidays or simply get an update when the kids get home from school and disarm the panel.
Cost of $350 fully installed no ongoing fees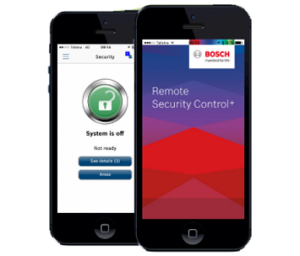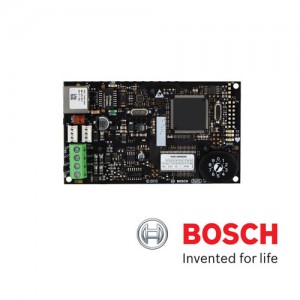 BOSCH SOLUTION TOUCHSCREEN KEYPAD
Features
Single key arming of alarm system
Intuitive & easy to use
Automatic Landscape or Portrait mounting
Fire, Medical and Panic alarms
General Information
The Bosch touch screen keypad gives the end user unparalleled control of their alarm system. It's thin and sleek design offers an intuitive and user friendly interface. The stunning seven inch high resolution display is captivating and will blend into any modern décor. Designed to be an integral and discrete part of the smart office/home, the touch screen keypad features an elegant, slimline housing.
Existing Solution 8xx series panels can be connected to the touch screen through Bosch's standard keypad cabling connections – allowing backwards compatibility with older panels. Meaningful names can be given to zones making it easy for the end user to respond to alarms and pin point security breaches.
Bosch Radion Wireless Receiver
RADION wireless from Bosch provides the range, scalability and exceptional battery life required to ensure reliable performance and superior quality. Advanced diagnostics and multiple device and control panel supportive options make installation and maintenance simple and cost effective. With a complete line of peripherals, RADION provides the flexibility for virtually any application requirement.
Bosch HCT-4UL Premium 4 Button Keyfob (HCT-4UL)
The RF-HCT-4UL-FOB is a fully DSFR compatible four channel remote control.
Features:
• Slide cover
• Stainless steel finish
• Designed in Australia to meet local requirements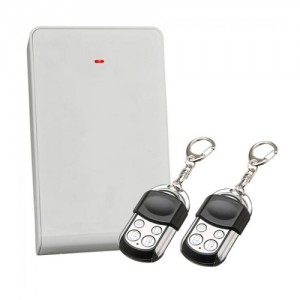 Click to get user guide