24/7  FULL-COLOR 2.0
Dahua Technology's full-color camera captures vivid color information even in low-light conditions. It effectively extracts the color features of scenes – be it human, vehicle or details – in places with high crime rate such as a park at night or a dark alley, providing great help to police officers during the evidence obtaining procedure. In addition, the full-color camera also works with AI functions to further enhance the probability and accuracy of target recognition and feature extraction.
DAHUA 24/7 FULL COLOR CAMERA 2.0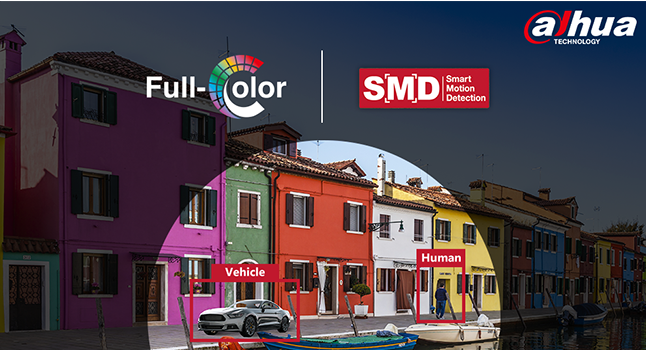 H.265 codec, high compression rate, low bit rate
Built-in Warm LED, max. LEDs distance: 30 m
 Supports max. 256 G Micro SD card, built-in Mic
ROI, SMART H.264+/H.265+, flexible coding, applicable to various bandwidth and storage environments
Intelligent detection: Intrusion, tripwire (support the classification and accurate detection of vehicle and human)
Abnormality detection: Motion detection, video tampering, scene changing, audio detection, no SD card, SD card full, SD card error, network disconnection, IP conflict, illegal access, voltage detection
SMD Plus
WDR, 3D DNR, HLC, BLC, digital watermarking, applicable to various monitoring scenes
12V DC/PoE power support 
IP67 protection
24/7 Colorful monitoring
• Presents colored images and captures vivid detail in low light conditions.
• Significantly increases probability of collecting valid human, vehicle, and event evidence through brighter monitoring
Excellent video quality in darkness
• Provides warm and smart auxiliary light to guarantee image clarity even in total darkness.
• Prevents rain reflection and does not attract insects.
Up to 98% AI accuracy at night
• Supports integration with recorder to achieve AI search and improve retrieval efficiency.
• Filters false alarms and allows human and vehicle classification to focus only on target of interest.
High-accuracy Detection
Thanks to the rich spectral information collection capability of full-color camera, in some scenarios, the target detection rate under full-color mode is higher than those under IR mode, thereby providing early warning to prevent crimes from happening and allowing quick response in time with active deterrence.
Target Recognition
Featuring excellent image effect, the Dahua Full-color AI Solution can realize face recognition and license plate recognition even at night. In places prone to crimes and incidents such as parks or dark alleys, this solution can effectively extract color characteristics as well as details of people and vehicles in the scene, achieving detection/recognition of targets.
Cost-effective AI Search
The clear and detailed color images collected by full-color camera can significantly aid evidence collection and police enforcement. At the same time, it also enables AI search based on attributes of people/vehicles, greatly improving retrieval efficiency and substantially reducing labor costs for users.